Contributor guide
Welcome
Hello and thanks for getting on board! We really appreciate your contribution to this project!
Thanks to this project you can translate the YITH plugins in any language and submit your translations so that it will always be available as part of the plugin package for you and for other users. No more worrying about backing up files and replacing them after every product update, your translation will always be there.
Thanks for your great support!
So, let's get started!
Register and log in
First of all, visit this page: translate.yithemes.com.
You have to register an account here, so click on the LOG IN button on the top right of the screen and then on Register.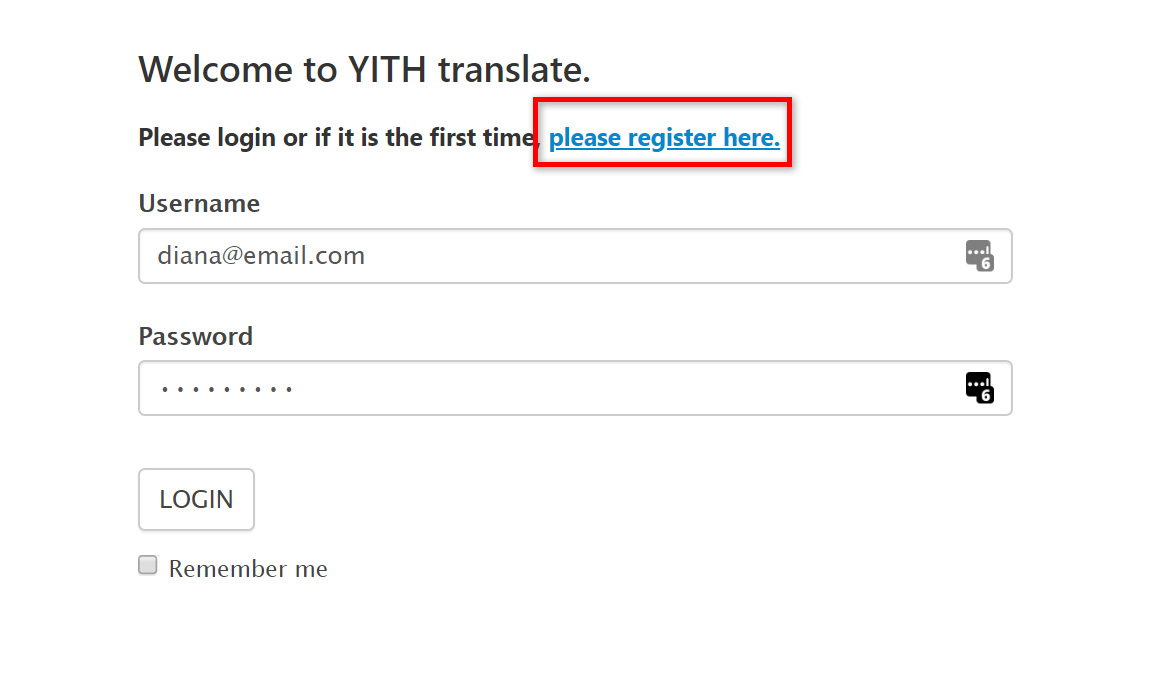 You will be asked to complete a quick registration form and after that your registration is completed. You will get a confirmation email into your inbox, but you're ready to start.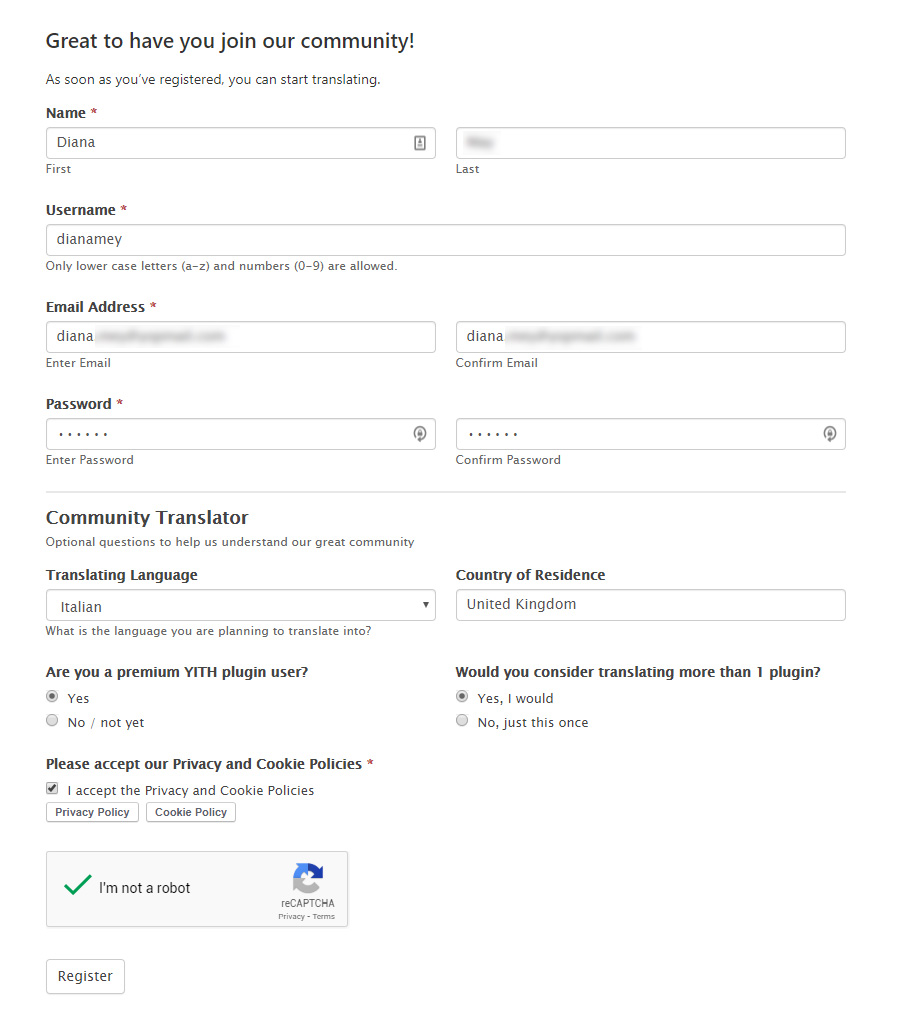 Hands in: let's translate!
Visit the homepage of translate.yithemes.com and select the plugin you want to translate, for example YITH WooCommerce Account Funds.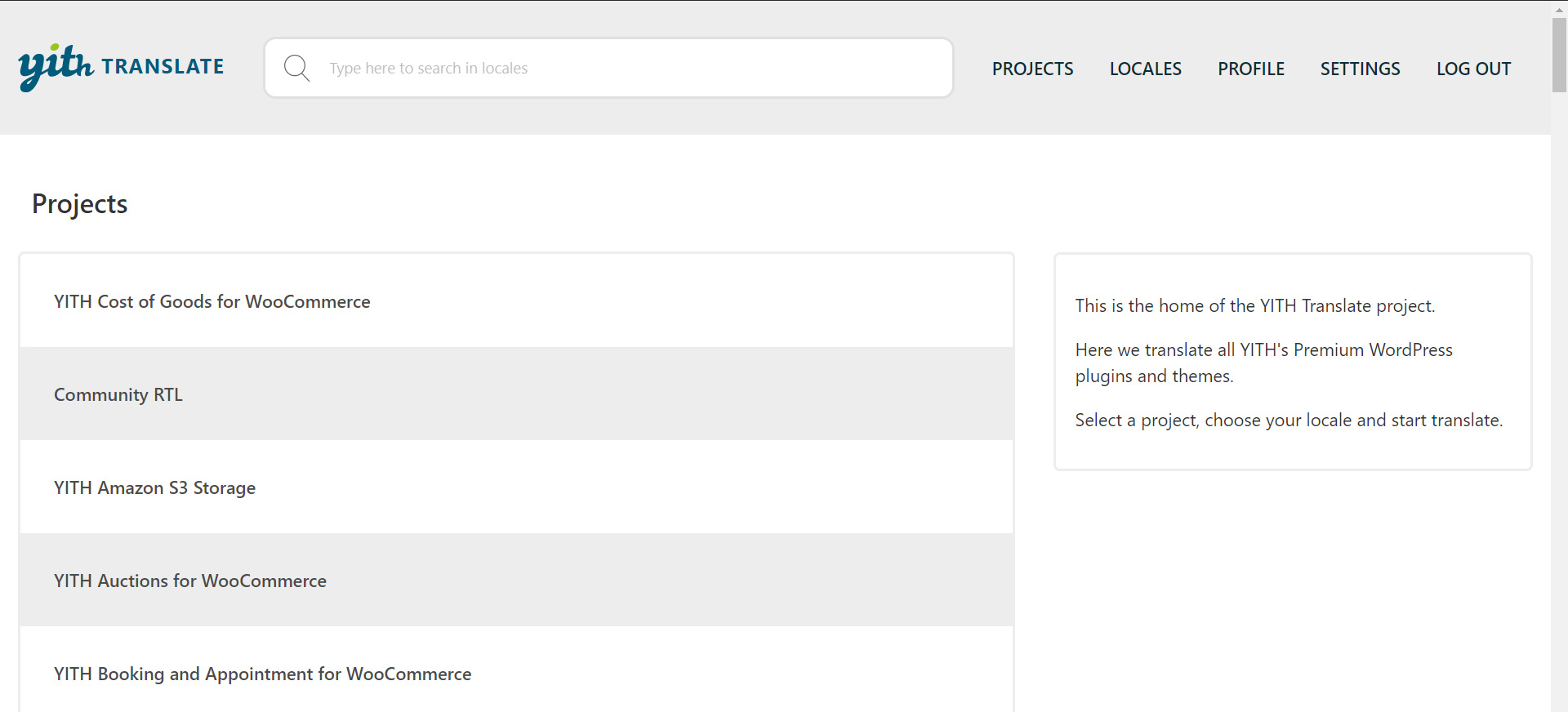 Then, you will be able to select the language into which it has to be translated:
Make sure you select the right one, otherwise all suggested translations will be lost as they cannot be moved from one language to the other.
Make sure you also select the right dialect or language variation, if available, for example, if you want to translate into Mexican Spanish, you'll have to select Spanish (Mexico).
Can't see your own language in the list of locales? Please, contact us through our Facebook group or email us to [email protected]
From this summary page, you will see for each locale: translated, fuzzy, untranslated text strings and those that have been submitted but are waiting for approval by a Project Translation Editor (PTE) or a Global Admin.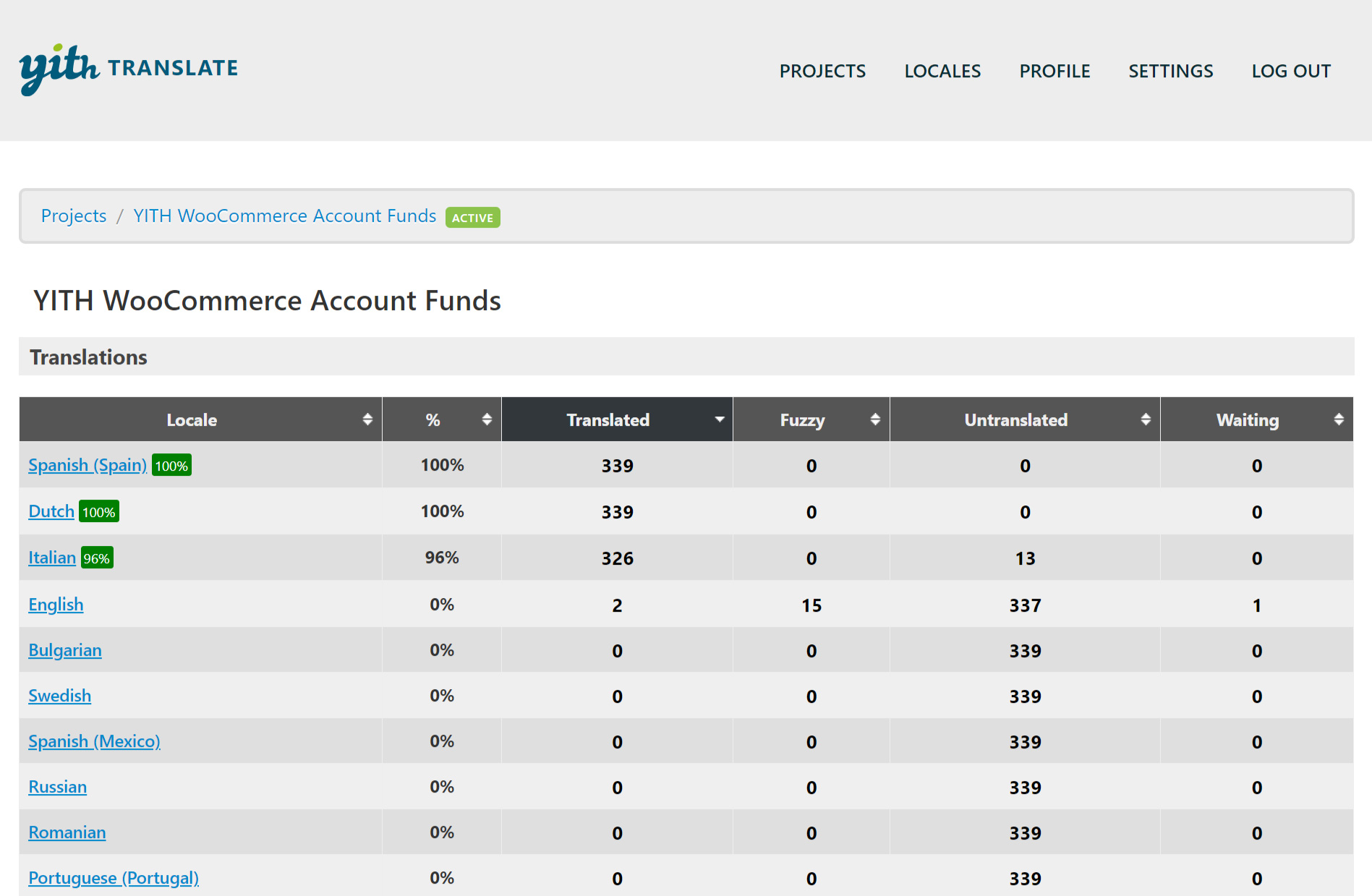 Let's select our locale, then, for example, Italian.
It has 19 strings untranslated, so it has to be only partly translated.
Click on the language and this is how it will look like:
The [Glotpress plugin] (the free WordPress tool used here thanks to which we have this nice platform ready made), is clear and intuitive.
You can just double click on the first text string to open its editor box and start translating.
You will see the original text on top, a box where you can enter the translated text, a button to copy the text from the original in case it's the same or it includes some custom text or placeholder and escape characters.
Then, you can click on Suggest new translation to submit the new translation.
In this box, you will be able to see some additional info (either or the right or below the text) about the selected text string, in the Meta box.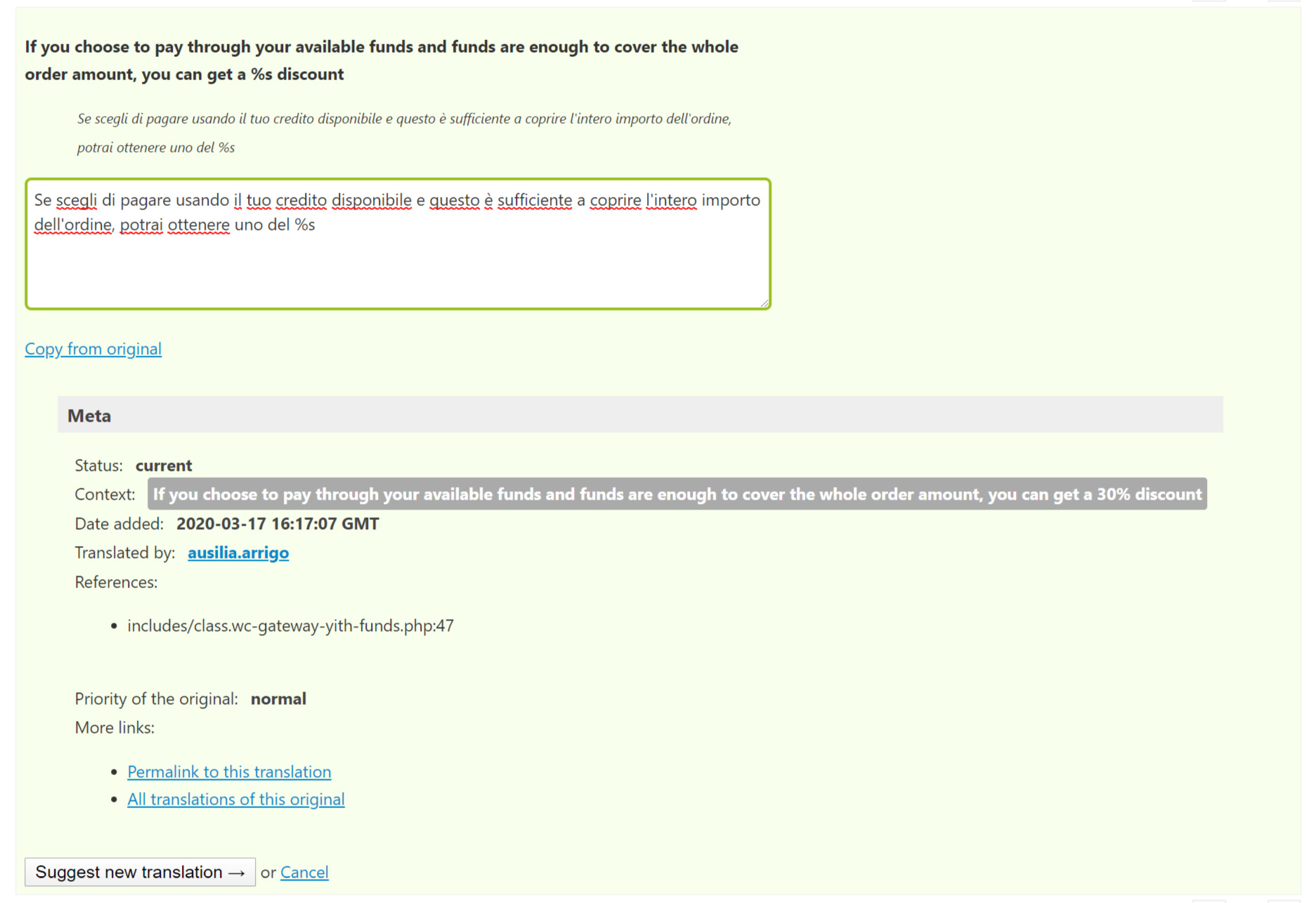 Status: this shows the status of the string and, if it has already been translated, the name of the contributor will appear here as well.
Context: here you find additional text provided by the plugin developer to help you understand the context where the text appears. In the example above, the sentence includes a placeholder (%s) that is replaced by a real example (30%).
Date added: date of the latest translation added.
References: here you see the file name where the text string appears.
Priority of the original: high, normal, low. This will be reflected in the first column on the left of the table as well. In the following screenshot for example the upward arrow stands for high priority.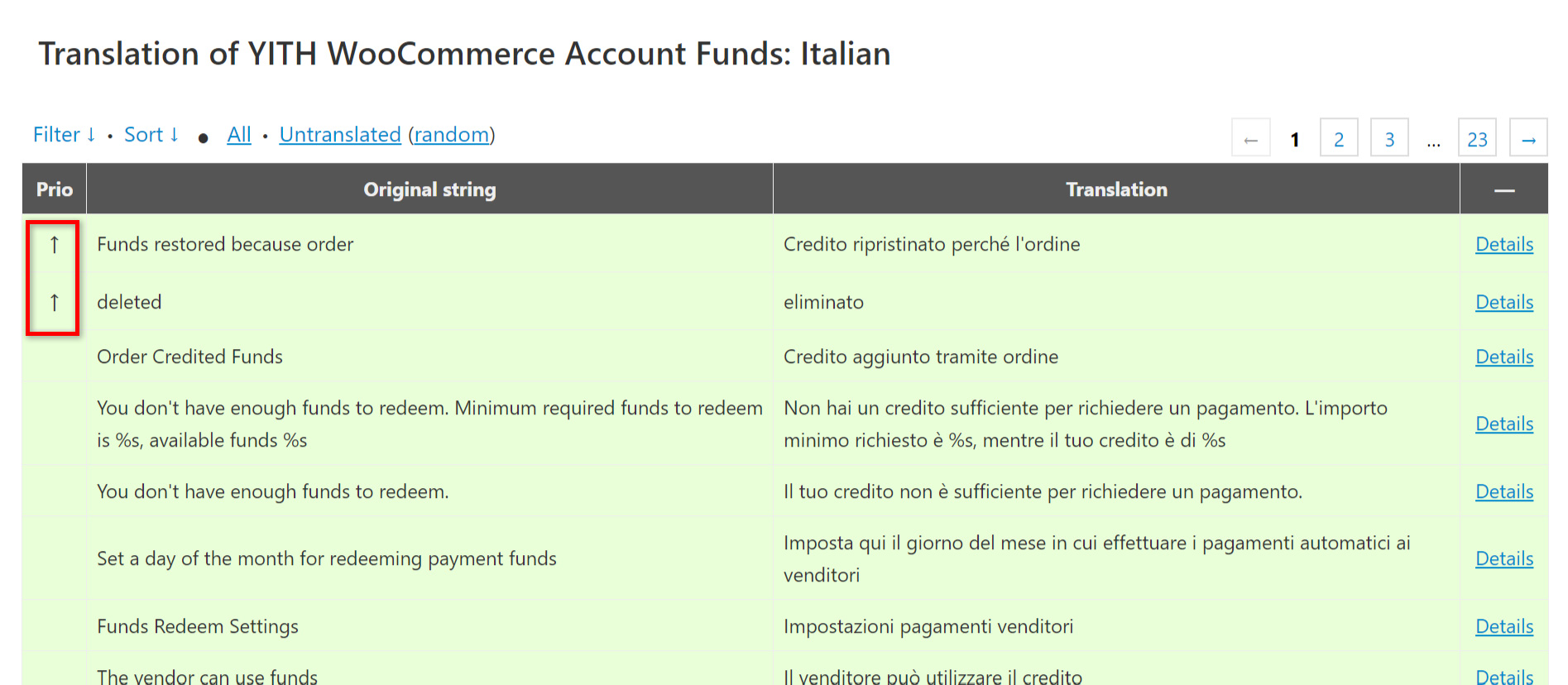 In the Meta section, you will also find two links:
Permalink to this original: this allows you to link this specific string so it will be easy to share it with any other contributor, PTE or admin and refer to the exact text you may want to talk about.
All translations of this original: this shows a list of all translations that have been placed for this text, both approved and rejected ones.
Once you finish with the translation, all your strings will look like yellow, meaning that they have to be approved by a PTE or an admin.
Once the translation editor has approved them they will appear as green. If they have been rejected they will appear red.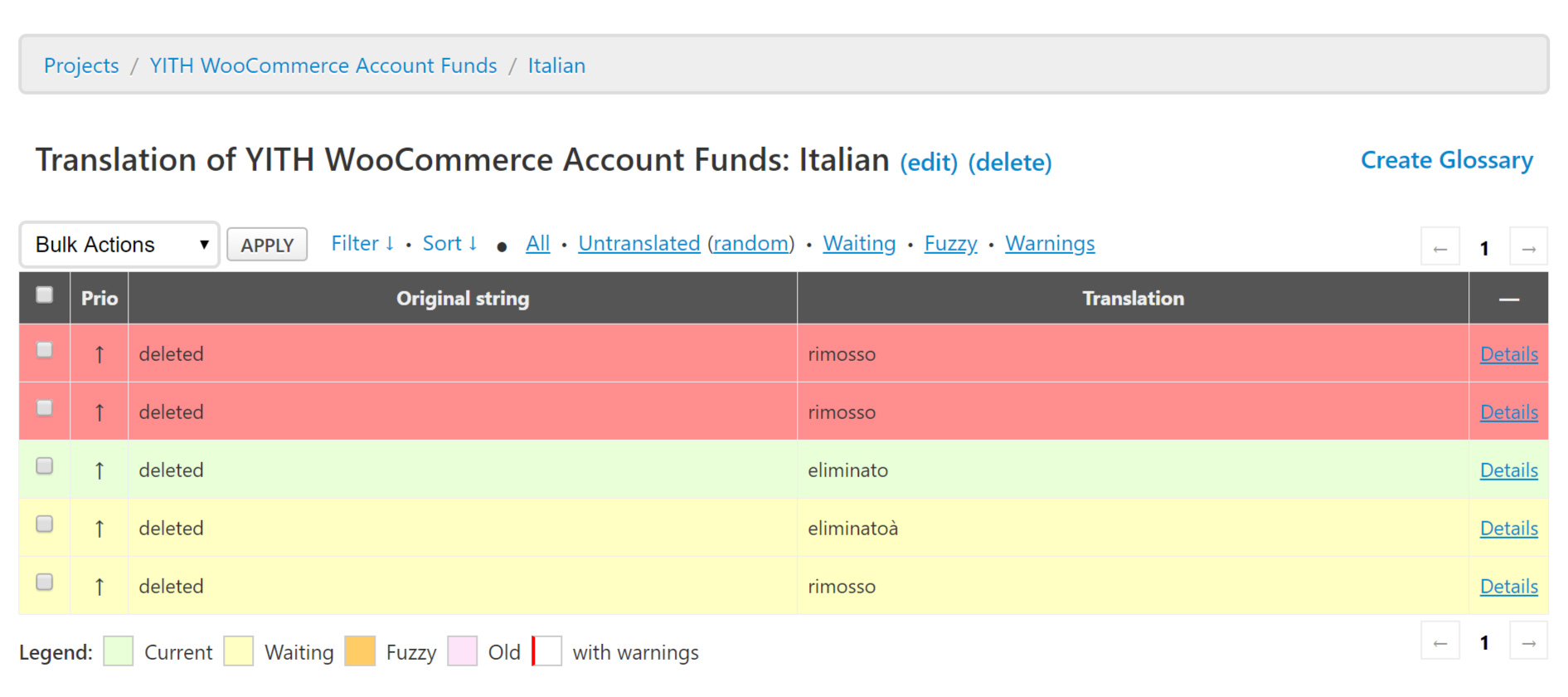 If some of the texts have been translated and others haven't, you can clear your view by filtering strings by Untranslated (shown in random order) as shown here: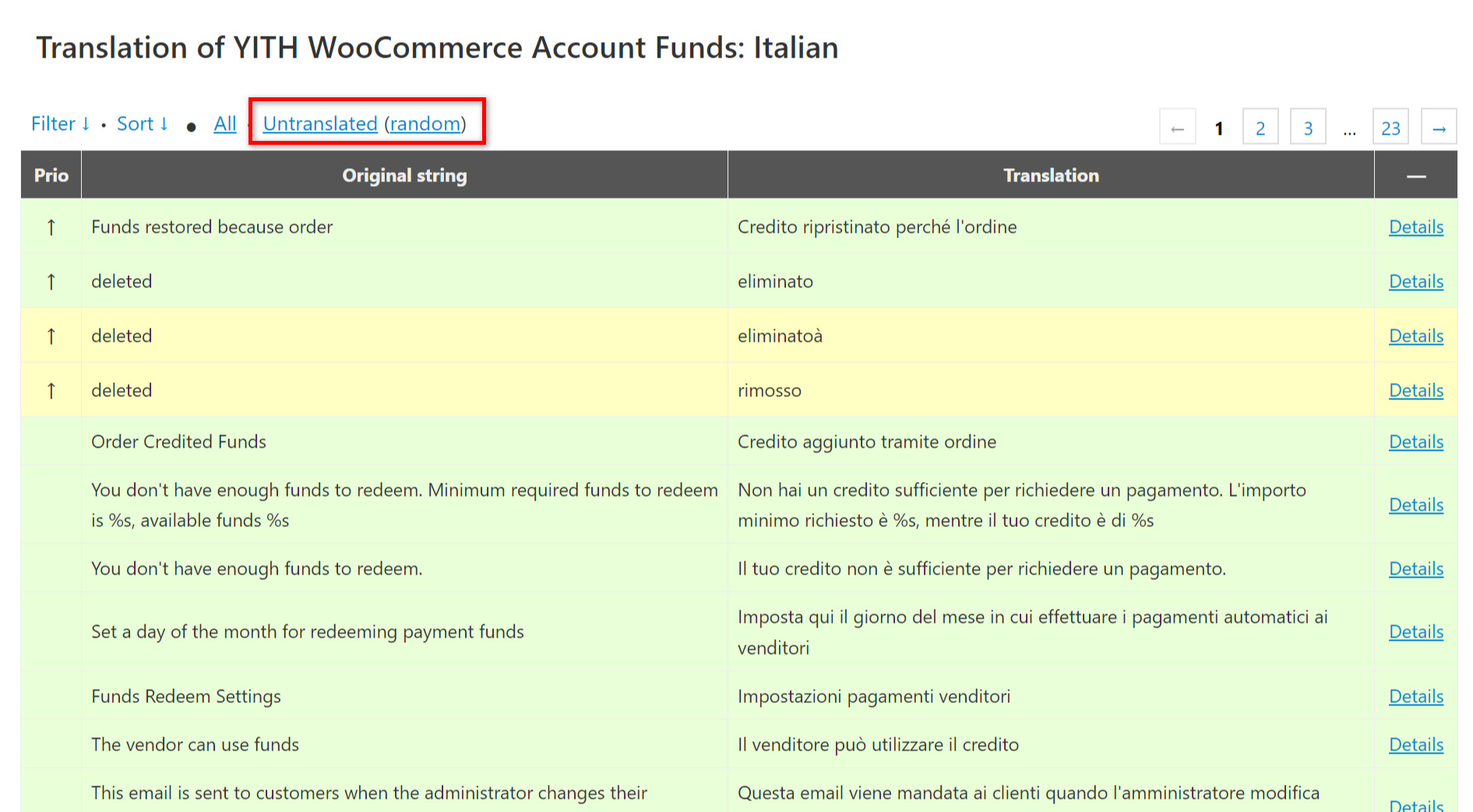 You may also use advanced filters or sorting options as shown below: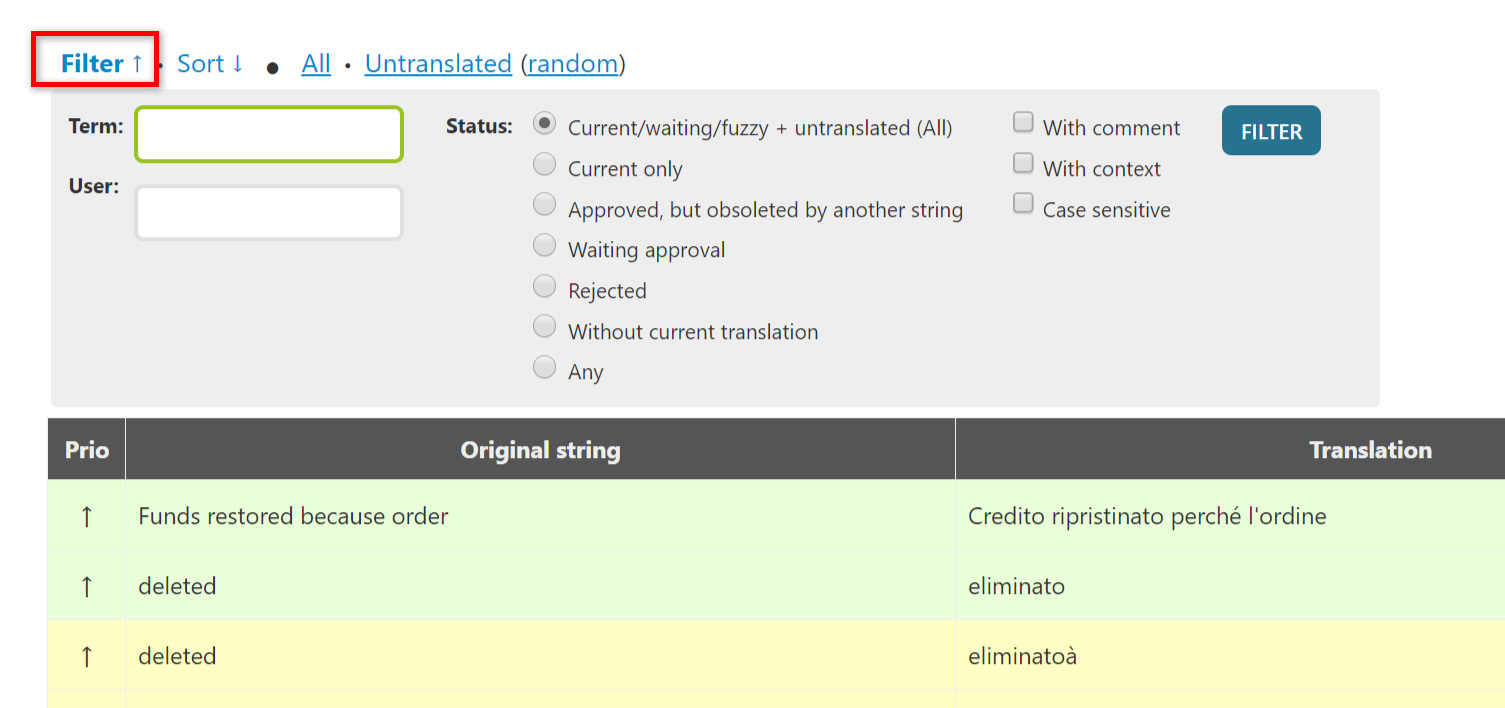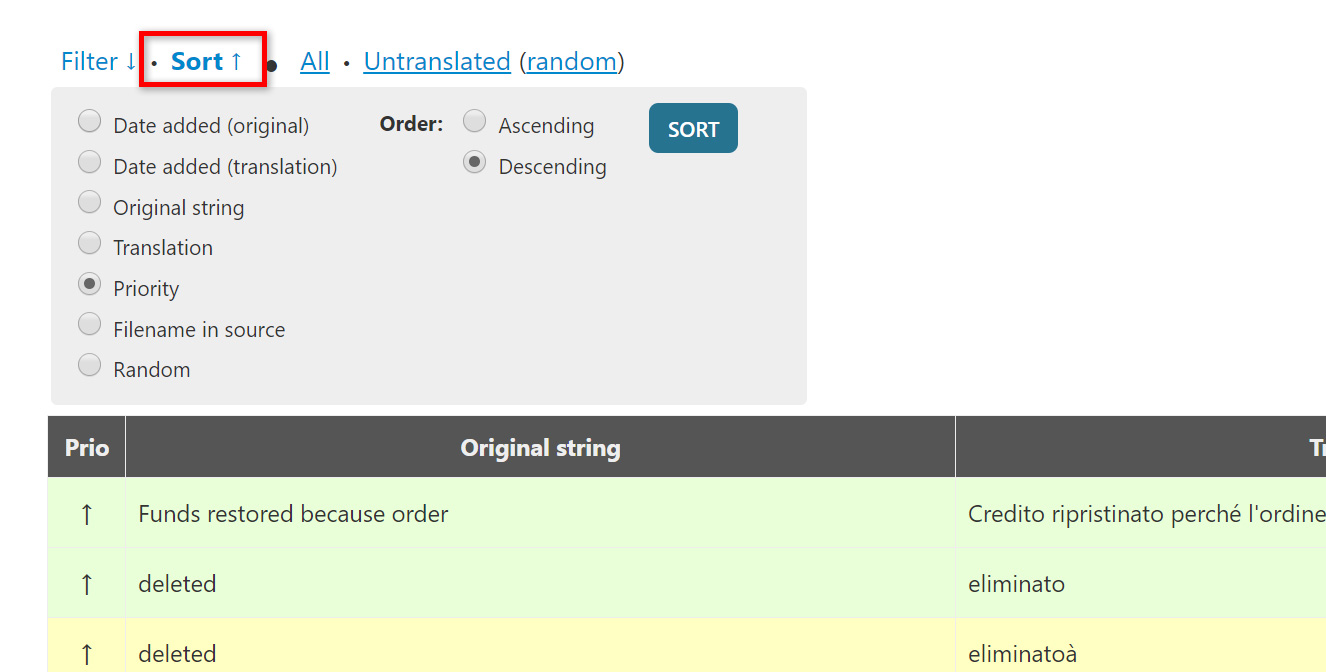 Important tools
Whenever you have doubts about what's the best way to translate a specific term, you can refer to the following tools managed by the WordPress community, as we want to uniform our product translations to those of WordPress.
WordPress glossary: here you find a list with links to glossaries by language with specific terms used in WordPress which translation has been agreed by the local community.
Consistency tool: here you find a tool that collects all translations for the same text available in plugins and themes available on WordPress.org. Enter the text and select your locale to see all available translations for one word or sentence. Be critical when using this tool and always make sure that the text you choose can really convey the right meaning in your own language.
YITH Translate Facebook group: join our Translation community group here (if you haven't done this yet) and ask questions or for help if you need help for something in particular.
What to do next?
How to get it approved?
Now, that you've finished translating a plugin (100% completed), please, get in touch with our Translation team from this page, so your translation can go through the review process and your strings can be approved.
Automatic update
Once your translation has been approved, you have to wait until the translation is automatically made available in the next plugin version. This way, you don't have to worry about uploading files, just use the site in your own language and activate the plugin and the translated text will be available.
Manual update
While you are waiting for your translation to be approved, you can however download it and upload the file in your plugin folders in a few simple steps.
Open the plugin project page in the language you're interested in, and then scroll down the page where you find the Export button.
Select the option Only matching the filter from the dropdown menu and then click on Export.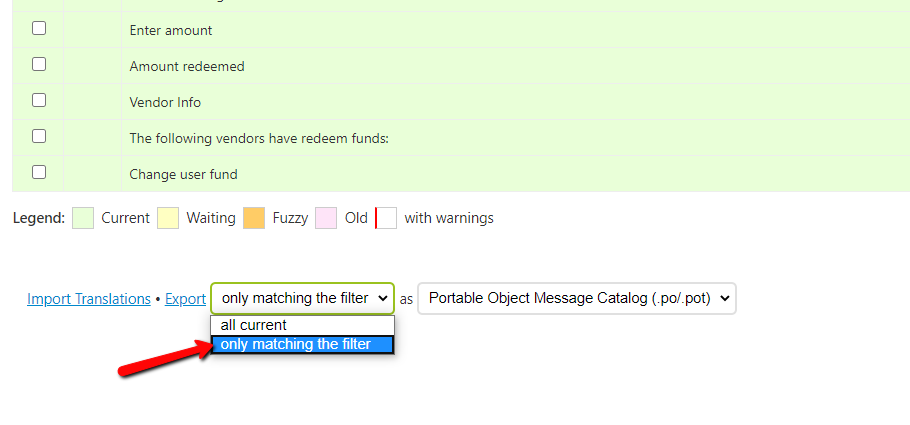 Upload this file in the plugin language folder, open it and save it: this will generate the .mo file that is the file that your WordPress installation will read. Keep the .po file for any changes you may want to apply in the future.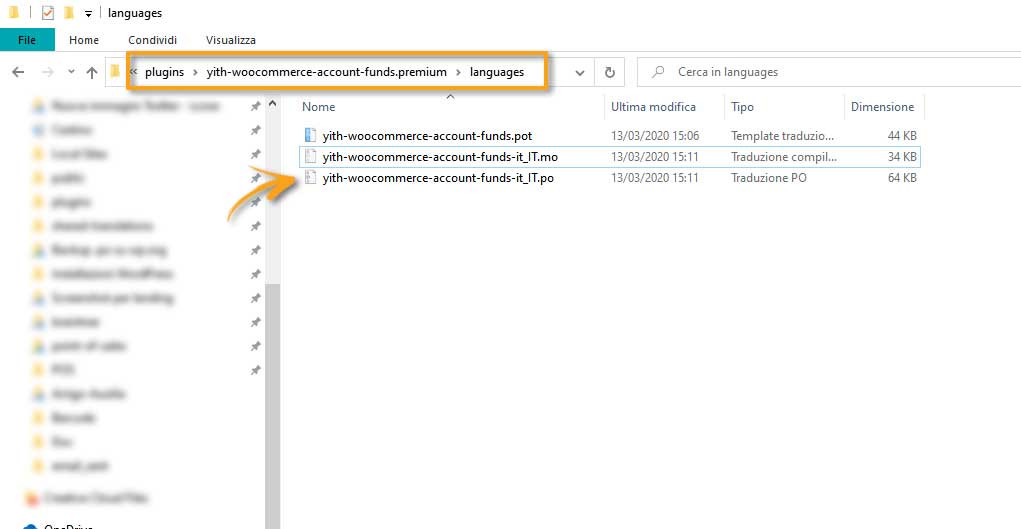 Manual localization
As an alternative, you can translate the plugin using the language files provided and refer to this tutorial for more details. Please, consider that the manual translation will only be available for you and you'll have to keep a copy of your translated files and upload them again whenever there's an updated version of the plugin available.
Need further help?
Can't find your language in the locale list? Or do you need any further help? No worries, feel free to reach out to us from this page or through our Facebook group and we will get back to you soon!
Thanks!